最新消息,国际光学工程学会(SPIE)于近日公布了2023年新选Fellows名单,来自全球各国的83位专家当选。他们是在光学、光子学和成像等多学科领域做出重大科学和技术贡献的杰出成员。

在这份名单中,我们看到8位中国高校和科研院所的学者。祝贺他们!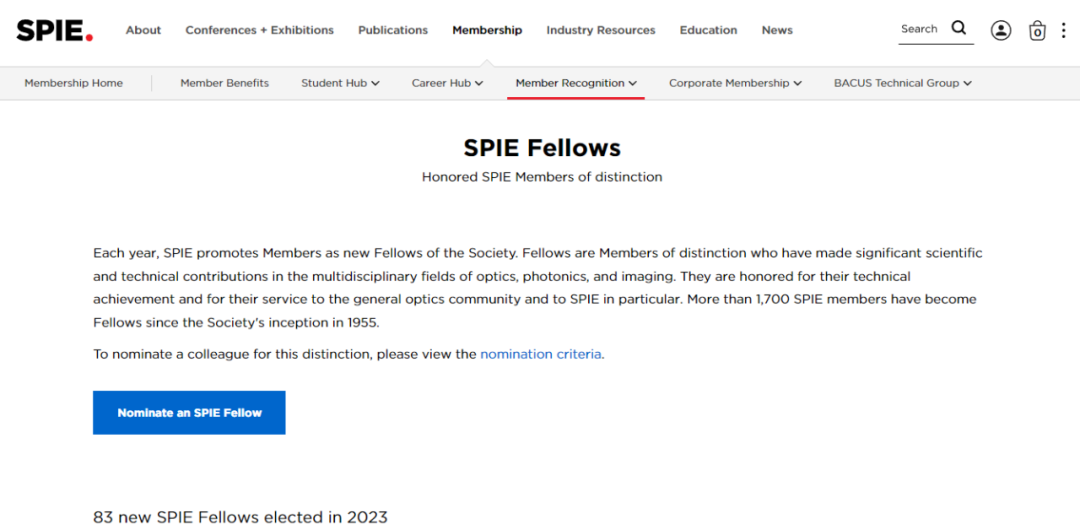 2023 SPIE新选Fellows名单如下:
Katherine Andriole, Brigham and Women's Hospital
Brian Applegate, Keck School of Medicine of USC
George Barbastathis, Massachusetts Institute of Technology
Ralf Bergmann, Bremer Institut für angewandte Strahltechnik GmbH
Martin Burkhardt, IBM Thomas J. Watson Research Ctr.
Wenshan Cai, Georgia Institute of Technology
Heang-Ping Chan, Michigan Medicine
Genda Chen, Missouri Univ. of Science and Technology
Guang-Hong Chen, Univ. of Wisconsin
Christopher Cotton, ASE Sailing
Julia Craven, CVI Laser Optics
Kenneth Crozier, The Univ. of Melbourne
Jeanette Domber, Ball Aerospace
Marla Dowell, National Institute of Standards and Technology
Karen Drukker, The Univ. of Chicago Medicine
Stanislav Emelianov, Georgia Institute of Technology
Rebecca Fahrig, Siemens Healthineers
Donald Figer, Rochester Institute of Technology

Aki Fujimura, D2S, Inc.
Qiaoqiang Gan, Univ. at Buffalo
Sylvain Gioux, Intuitive Surgical, Sàrl
Christos Grecos, Arkansas State Univ.
Deborah Gustafson, Energetiq Technology, Inc.
Nathan Hagen, Utsunomiya Univ.
Pin Han, Chung Hsing Univ.
Jed Hancock, Space Dynamics Lab.
Richard Holmes, Nutronics Inc.
Juejun Hu, Massachusetts Institute of Technology
Guoliang Huang, Univ. of Missouri
R. John Koshel, Wyant College of Optical Sciences
Michael Kudenov, North Carolina State Univ.
Santosh Kumar, Liaocheng Univ.
Patrick La Rivière, The Univ. of Chicago
Muyinatu Lediju Bell, Johns Hopkins Univ.
Daniel LeMaster, Air Force Research Lab.
Shien-Kuei Liaw, Taiwan Univ. of Science and Technology
Amy W. Liu, IQE Inc.
Quan Liu, Xiamen University
Yongmin Liu, Northeastern Univ.
Makenzie Lystrup, Ball Aerospace
Christi Madsen, Texas A&M Univ.
Lawrence Melvin, Synopsys, Inc.
Rajesh Menon, The Univ. of Utah
David Messinger, Rochester Institute of Technology
Nishant Mohan, Notal Vision, Inc.
Warren Montgomery, Consultant
Stephen Morgan, The Univ. of Nottingham
Derek Nankivil, Johnson & Johnson Vision Care, Inc.
Chittur Narayanamurthy, Indian Institute of Space Science and Technology
Binh-Minh Nguyen, HRL Labs., LLC
Michael North-Morris, 4D Technology Corp.
Tatiana Novikova, Lab. de Physique des Interfaces et des Couches Minces
Linyong Pang, D2S, Inc.
Cheng-Wei Qiu, National Univ. of Singapore
Sukhdev Roy, Dayalbagh Educational Institute
Samuel Sadoulet, Edmund Optics Inc.
Takashi Sato, KIOXIA Corp.
Mansoor Sheik-Bahae, The Univ. of New Mexico
Jeffrey Siewerdsen, The Univ. of Texas M.D. Anderson Cancer Ctr.
Cather Simpson, The Univ. of Auckland
Maksim Skorobogatiy, Polytechnique Montréal
Michael Soel, Teledyne FLIR LLC
Cristina Solano, Centro de Investigaciones en Óptica, A.C.
Yuzuru Takashima, Wyant College of Optical Sciences
Mitsuhiro Terakawa, Keio Univ.
Mark Tolbert, TOPTICA Photonics, Inc.
Ventsislav Valev, Univ. of Bath
Gijs van Soest, Erasmus MC
Geert Vandenberghe, imec
Frédérique Vanholsbeeck, The Univ. of Auckland
Georgios Veronis, Louisiana State Univ.
Benjamin VerSteeg, TruTouch Technologies Inc.
Jue Wang, Corning Incorporated
Yayi Wei, Institute of Microelectronics, Chinese Academy of Sciences
Bernd Witzigmann, Friedrich-Alexander-Univ. Erlangen-Nürnberg
Peter Wizinowich, W. M. Keck Observatory
Yun-Feng Xiao, Peking Univ.
Valeriy Yashchuk, Lawrence Berkeley National Lab.
Lifeng Yu, Mayo Clinic
Yang Yue, Xi'an Jiaotong Univ.
Jian Zhang, Boston Scientific Corp.
Wei Zhao, Stony Brook Univ.
Chao Zuo, Nanjing Univ. of Science and Technology
据悉,自1955年成立以来,SPIE每年都会从会员中选拔Fellows,至今已有1700多名会员成为Fellows。
来源:SPIE官网